Jewelry is the perfect Valentine's Day gift. It's beautiful, romantic, and something that she'll be able to enjoy for decades to come. To help you pick a gorgeous new piece of jewelry she'll adore, we've put together this jewelry gift guide for Valentine's Day, featuring some of our most-loved pieces.
Diamond Fashion Ring
Yellow Gold Fashion Diamond Band
This fashion diamond ring is both luxurious and ultra wearable. This slim band features a row of stunning white diamonds, which alternate in size, bezel set along the top of an 18k yellow gold band. This band is beautiful worn on its own but also works perfectly as part of a stylish ring stack.
Halo Set Pink Diamond Studs
Pink Round Diamond Halo Earrings
These halo set diamond stud earrings are incredibly romantic. These gorgeous studs feature two pink color enhanced round diamonds, which are surrounded by white diamond halo settings. The unique halo settings used here give these studs the appearance of two blooming flowers. And unlike a standard bouquet, these glimmering diamond flowers are something that she'll be able to enjoy for a lifetime.
Twisted Emerald Diamond Band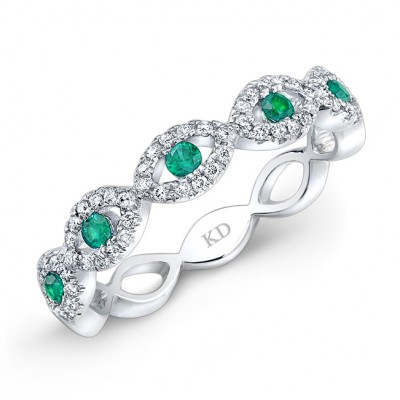 This emerald and white diamond band is as elegant as it is glamorous. This ring features natural emerald gemstones, which are gracefully set along the top of a twisted band crafted from 18k white gold. The gorgeous green hue of the featured emeralds is complimented by dozens of shimmering white diamonds, which add stunning brilliance to this eye-catching ring.
Diamond Cluster Drop Earrings
Tear Drop Cluster Diamond Earrings
These diamond cluster earrings dazzle from every angle. This design features two spectacular pear shaped diamond clusters, which are surrounded by radiant pear shaped diamond halos. The enclosures of these drop earrings are also set with shimmering pave diamonds, further increasing the extraordinary brilliance of these sophisticated earrings.
Heru Bracelet
There's no piece of jewelry she'll treasure more than a diamond tennis bracelet. Tennis bracelets are classic, stunning, and simply timeless. This diamond bracelet, the Heru Bracelet, is an exquisitely intricate take on the classic tennis bracelet design. In this piece, 3.4 total carats of brilliant round diamonds have been expertly placed in Coronet Solitaire Patented Settings, which allows each diamond cluster on the bracelet to beautifully showcase 399 diamond facets. These round settings have been artfully connected along a slim 14k white gold line, which gives the piece a scalloped, romantic look. This bracelet is elegant, beautiful, and made from the finest materials, making it an heirloom quality piece.
Diamond Drop Neti Necklace
The Neti Necklace offers a new, more dazzling take on the classic diamond drop necklace. This beautiful design features two diamonds that drop from an elegant 14k white gold chain. From these diamonds lies the star of this necklace: a mesmerizing Coronet Solitaire Setting, which features seven brilliant white diamonds.
Diamond Infinity Engagement Ring and Wedding Band Set
14k White Gold Eternity Ring with 3.02 Ct Round Brilliant Cut Diamond and Matching Diamond Eternity Band
There's no better Valentine's Day gift than an engagement ring. If you're considering proposing this Valentine's Day, choose an engagement set that will set her heart on fire. This breathtaking engagement set includes an infinity engagement ring that boasts a 3.02 carat white diamond at its center. Paired with this ring is an infinity diamond band, with perfectly matched diamonds that beautifully compliment this set's engagement ring.